Revelation Of Grace Part 3 – Lawson Perdue & Andrew Wommack
The Revelation Of Grace Part 3 from Pastors Lawson & Andrew Wommack. In this third episode of a special series on Grace For Today, you will learn how to connect humility and grace together and see God's purpose established in your life.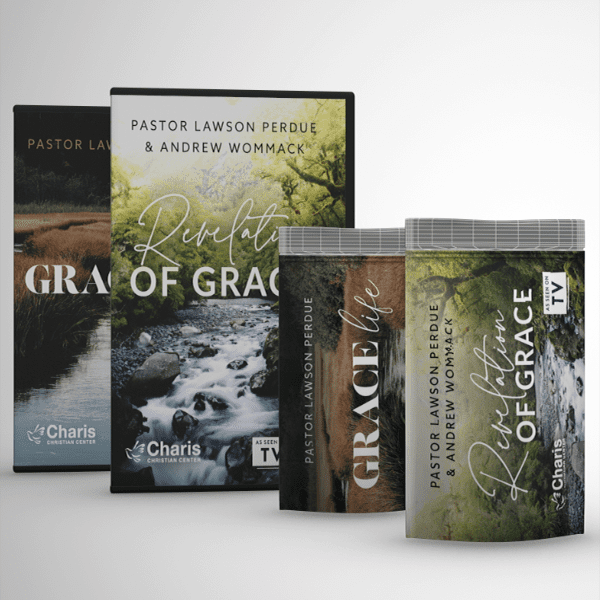 The Grace Life Package
The Grace Life Package includes some of our favorite teachings from Pastor Lawson and Andrew Wommack, about living a life full of the Grace of God. This bundle consists of Grace Life and Revelation of Grace in your choice of CD, USB, or as a Digital Download:
Revelation Of Grace Part 3 Transcript
Praise the Lord, friends, and welcome to the broadcast. I'm so glad that you've tuned in. I have my good friend and mentor, Andrew Wommack, with me today. And we're really talking about the revelation of grace. And in this broadcast, we're gonna be talking about the balance of grace and faith and how humility and grace really work together so that you can see God's purposes and plans established in your life. Tell your friends to tune into the broadcast. God bless you, we love you. Friends, I'm so glad that you're with us today. I have Andrew Wommack here, and we're gonna be talking a little bit in this program about the revelation of grace, but specifically, about the balance of grace and faith.
Amen.
And so you can go ahead.
Well, I think that people tend to either get a hold of grace or faith, but they don't put them in balance. And, you know, out where you grew up, there was ditches on both sides of the road. Out where I live there's ditches on the side of the road. And if you want to get to your destination, it doesn't matter which ditch you hit, you aren't going to get there if you hit either ditch. You gotta go right down the middle. And so there is a balance. And what I was saying yesterday was Ephesians 2:8 "You're saved by grace through faith and that not of yourselves." It's grace through faith. You aren't saved by grace alone, because it says in Titus 2:11 "The grace of God that brings salvation has appeared unto all men." If grace alone saved you, all men would be saved.
And everybody isn't saved.
No they definitely aren't.
And some people that only teach grace try to teach that everybody's saved. And I'm like, "Well, why does the Bible say, 'Believe on the Lord Jesus Christ?'"
And that's an abuse.
Right.
And there's people say that just focus on grace alone, and this leads them to think that there is no hell, and that everybody's fine and that's wrong.
Right.
And so, it's not all grace and it's not all faith.
Right.
If you preach only grace well then people tend to think that I can live any way I want to and there's no consequences to it. If you teach only faith, well then people get legalistic, thinking it's all up to me.
And here's another thing. If you teach only grace, a lot of people get into sovereignty.
[Andrew] That's true.
Right?
[Andrew] It's just untaught.
Right. But, but if you teach all faith, then it becomes performance. And it's not our performance, it's the performance of Jesus. But when we understand grace, what happens is it causes faith to come alive. I like to say faith comes alive in the presence of God. Galatians 5:6 says, "Faith works by love." And when you understand that in context, what He's saying is your faith will work when you get a revelation or an understanding of grace.
And so here's a scripture that I've used to illustrate that, in Mark 11:24. This is a scripture that the faith people use a lot, which I am a faith person, but I'm saying people who preach only faith will use this. And they'll say, "Therefore I say unto you, whatsoever things you desire when you pray, believe that you receive them and you shall have them." And so there are people that just use this and they say that my faith is what moves God, I'm confessing this and God has to perform. And man, that is error to the max. And I actually knew a woman who had a Bible school. It was a real small Bible school, but she taught that you could claim anything that all you gotta do is just believe it and confess it with your mouth and you shall have it. And so she claimed that Kenneth Copeland was gonna be her husband.
That's crazy.
It is. And the way that they dealt with Gloria Copeland being married to Kenneth was that they just cursed her and committed her to die.
Oh, that's terrible.
And they were waiting on Gloria to get out of the way so that she could marry Kenneth. And she in her Bible school, had a wedding ceremony where "In the spirit," quote unquote, "she married Kenneth Copeland."
That is nuts.
I know. And most people watching this would say that's totally wrong. But why? Doesn't this say whatsoever things you desire when you pray, believe that you receive them isn't coveting somebody else's mate whatsoever.
The reason you can't do that, here's the answer to that, is that faith doesn't make God do anything.
[Lawson] Right.
Faith only appropriates what God has already provided by grace.
[Lawson] Amen.
Now see, if you understand that relationship between grace and faith, well then, it takes away all of this error because you can't use your faith to make God give you somebody else's mate or to covet somebody else's house or car.
[Lawson] Right.
You can't use, God doesn't respond to our faith. Our faith is a response to God's grace.
[Lawson] Right.
And once you understand that and combine these things properly.
[Lawson] Amen.
Then it really makes the Christian life a lot easier.
Amen.
Because if I need healing in my body, I'm not trying to do things to God. Now I've confessed the word, and I've taken communion I've done this and you have to heal me.
No.
No, he's already healed me and I'm doing those things to change my heart and make my heart sensitive to God, not to change God's heart.
Right. And when we understand, so we talked about this just a little bit yesterday, but Romans 10:17 says, "Faith comes by hearing and hearing by the word of God." The literal Greek says something like this, "Faith comes by declaration and declaration by the mouth of God." So that's why all preaching doesn't build your faith because all preaching doesn't accurately represent who God is. But when we understand, for instance, in the old Old Testament, Exodus 15:26, God said, "I will put none of these evil diseases upon you, which I brought upon the Egyptians for I am the Lord, your healer, the Lord who heals you. I am Jehovah-Rapha". Then we go to the to the Gospel and we look at Jesus in 14:10 It says He healed all of them, He healed everyone that came as many, you know. And we look at Matthew 8:16 and 8:17 and it says, "As Jesus healed all these people, these things were done, that it might be fulfilled, which Isaiah spoke himself, took our infirmities in, bear, our sicknesses." Isaiah 53:4. And then 53:5 says: "But he was wounded for our transcriptions, bruised for our inequities. The chastisement of our piece was upon him. And by his stripes we are healed." Right? So that same word for healed is the same word. It's Rapha in Isaiah 53:5 as Exodus 15:26. But then if you go over into 1 Peter 2:24, and he says, "Who is on self bear our sin in his own body, that we being dead to sin should live under righteousness. By whose stripes you were healed." So Peter looks back on the cross and said, Jesus did it. Matthew looks, looked at Jesus and said, This is what Isaiah's talking about Isaiah's prophecy. So we begin to understand that God is our healer, right? And then that Christ is our healer and we have these promises. And at the same time that he paid for our forgiveness, he paid for our healing. And as we begin to understand that finished work of the gospel and that Jesus has already done this work and that we are the heal to the Lord, then we agree with what the scripture says.
I use healing as an example because this is something that people relate to that when when you are sick or you've had the doctors pronounce some kind of sickness on you, people start immediately thinking, what do I have to do to get God to heal me?
[Lawson] Right.
And see that's not grace. That's me doing something that is going to make God move. And let me go back to when I first got really turned onto the Lord, right after Jamie and I got married in 1972, I was sick not long after that and I had the Flu and I got down on the floor because I was hurting so bad I couldn't stand up, I didn't wanna go lay down because I'd go to sleep. So I got down on the floor on my hands and knees and for eight hours during the night I pushed my Bible around with my nose looking up scriptures and quoting Isaiah 53:5, and Matthew 8:17, 1 Peter 2:24. And I quoted all of those. Now see some people would listen to that, and by the way, I was totally healed in the morning. So eight hours of crawling around on the floor, pushing the Bible and quoting scriptures, I was healed in the morning. Some people would listen to that and say, "Well see you did that and you made God move." But that's not true. God had already healed me, but I was taught that sickness was God doing it to me,
Right.
It was his will. I was taught that God doesn't heal today. And I was fighting the unbelief. All of those things I was doing was dealing with my heart, getting my heart right with God. It didn't change God's heart towards me and it didn't make God do anything. So this is what people got to understand, that grace is something that God does for us, independent of us. It has nothing to do with us.
[Lawson] Amen.
But it doesn't do us any good until we respond in faith.
[Lawson] Right.
So there's things we need to do, but it needs to be a response to what you believe God has already done, not something you're doing trying to
[Lawson] Right.
get God to do it.
We look at Hebrews 4 and I shared some about that in Romans 10 on Sunday, but you know in Hebrews 4 it says, "The works were finished from the foundation of the world. Jesus was the lamb slain from the foundation of the world." And so the hardest work we may ever do, it says, "Let us labor to enter into that rest."
[Andrew] I just taught on all of that last night.
Yeah, so I was just sharing on this Sunday, but a lot of times people are trying, they're still trying to make God move and really it should be a response to the gospel.
That's quite a effort to make God move. For you to make God.
You can't do it. In fact, I started like with our church, I said, I believe one of the most powerful prayers we could pray is just God, you established your purposes and your plans. And actually I went to Billy Epperhart's Church and heard Billy preach some things and he was preaching actually at Brother Beerman's when I was in Kit Carson. It's when we were in transition making the move to come here. But I took this scripture in Job 23:14 and I started saying, "You perform the things that are appointed for me and many such things are with you." And I started praying that, I started praying some scriptures out of Romans 9. And it was amazing to see God. And I think sometimes we're, we can't make God like these, there aren't specific promises right? About where Charis Christian Center is going or what we're supposed to do, but there is specific, God has a specific plan. And I think rather than me trying to cook up all my ideas just to pray, and I've actually had this in your ministry and stuff, when I first came here, there were certain people tried to keep me away and keep me out. I just go home and pray, Lord, if you want me to be.
Was this some of my staff?
Well they're not here anymore, long time ago.
I think I know who you're talking about.
Yeah, but, Lord, if you want me to be involved, I pray Job 23:14 I said I wanna be involved but if you want me to sit on the bench, I'm happy. But you perform the things that are appointed for me. And it's one of the first summer family Bible conferences you had and you came, I was going to like every meeting, of course we didn't have near as much going at the church, but you came like Thursday and you said, "Are you speaking?" And I said "No." And you said, "Well that's not right, You'll take my session tomorrow." Of course at your meeting preaching in your session, everybody comes to hear you. So, and then you've had me speaking ever since then. So, you know I, if God didn't want me there, right, that's fine. I'm okay. because I'm not, it's not my Bible school, I'm not in charge of the meetings, it's not my ministry. But if God wants me there. then you put me there.
Lawson, this is another attribute of grace that most people don't recognize. But over in 1 Peter 5, it says, "Humble yourselves, therefore under the mighty hand of God that he may lift you up. God resists the proud but gives grace to the humble." Did you know that humility in this attitude that you're talking about where you aren't promoting yourself and if I didn't want you to speak, that you would be fine. See that is a reflection of grace. People who are legalist and feel like everything is up to them, they push themselves, they have to promote themself.
[Lawson] Listen.
But when you know that God loves you and God's on your side, you can just leave things in the Hands of God
[Lawson] Yeah.
Not promote yourself.
And I told some people, I said this I think Sunday, but some people are trying to kick down the door by faith and there's some doors that maybe you don't wanna open.
[Andrew] That's right.
And there's some doors that God closes and there's doors that God opens and you know, sometimes God closed the door because, he has a better one.
Well, back before I learned all of these things that we're talking about, Jamie and I, when we first got married we gave a hundred dollars and we were believing for a hundred fold returning we were gonna go buy a Greyhound bus and converted into a like a mobile home and we were gonna travel and do that and we believed for that and we thought, God, you've got to do it because we gave this a hundred dollars. And man I praise God we never got that Greyhound bus. Yeah, it would've been terrible.
Here's an example. So we went to Kit Carson, right? We talked about that on Monday's broadcast. And we started this Church and in 15 months from when we went there, we had a Church built and paid for, it was supernatural. And then we came here and I was out like the second summer walking around Bear Creek on a Saturday afternoon and like praying, God, where's my Church gonna be? And He's like, that's for me you not to know. it's just like He told me, "Lawson faith is a journey, enjoy the trip." And you know, it was nine years before we moved into the building next to you on Elkton. And it was seven years before we bought it, the end of the seventh year that we were here. But when we were building that out, I worked so hard and you know, Peter had just went to college, he was between his freshman and sophomore year and Aaron was between his two years doing his master's degree at Rice. Peter was going to Princeton and they both came home and worked for me in the summer. I paid them $10, now, I was having to pay everybody else about $20 or $30. But those kids were working hard. But I thanked God when that happened.
[Andrew] Yeah.
You know that I didn't get that sooner. And the reason was my boys were in high school and they needed me and I would've been so involved like in that building program. My hair turned nearly white every Church building I built the first one didn't change very much. But these last two.
Well, the one over on Elkton, I guarantee you put too much effort in.
Yeah, I put a lot in it. I saved the church a lot of money but it was hard on me.
Yeah, but you paid for it.
Right. But anyway, I thanked God at that point in time that I didn't have that when the boys were home that I could be there when my boys were all in high school and I can be really.
That's the way grace is when you're, when you're full of grace, you're humble and you aren't promoting yourself and it's not about you. And it's not about I've got a five year goal and God, you've got to do this. When you are really understanding the grace of God, you can rest. Going back to Hebrews 4, what you were talking about that Sabbath rest. And you enter into this rest where God, it's up to you.
Yeah.
You know right now we've got a major building program. I don't even think you heard about it.
Oh yeah, I heard about it.
Did you hear about it?
Somebody was telling me.
And we've got a major building thing going, but I'm totally at rest in the thing and if it never came to pass, I don't care.
Yeah.
I'm just doing what God tells me to do and I believe and I believe it will work. But the burden isn't on me.
[Lawson] No.
Matter of fact, another verse that over there in 1 Peter 5 right after it says "God resists the proud gives grace to the humble," It says, "humble yourselves therefore under the mighty hand of God." And then the next verse says, "Casting all of your care upon him because he cares for you."
That's great.
So I can say it this way that if a person is under pressure and burden and "God I've got to do something," they haven't cast their care on the Lord. They aren't humble and they're operating in pride and God is resisting them, it'll actually stop the things at God.
I want to talk, we haven't taken a break yet, so we'll take a break. And we'll be back right in a few seconds. Stay tuned. And I'm gonna talk a little bit about our ministry and how we started the first church and the second church and the difference in that and how I learned to rest. It's really good. Friends, I want to tell you about our grace package. I received a revelation of grace in Andrew Womack's ministry in 1994 after I'd been pastoring for six years. It revolutionized my life and it's helped me in so many different ways. I actually have been called to preach and filled with the Holy Spirit in Andrew's ministry 16 years prior to that. But when I received a revelation of grace, it changed me. We've also included a great teaching from my son, Aaron Purdue on the abundance of grace. A single CD on "Entangled", a great message on grace from Aaron and my series on "Galatians: The Grace of Christ". You don't want to miss this teaching just like it's revolutionized my life. It will revolutionize yours. You can share this with your friends. If you don't wanna call in and get this, you can actually listen to these free on our website, at charischristiancenter.com. We want to get the word to you. Blessings. Praise the Lord, friends. I'm glad you stayed tuned and you were just talking about how we, when we really begin to understand grace, how humility works with that and actually James 4 talks about that. And it said, "God resists the proud but he gives grace to the humble." Aaron was just actually teaching on this in 1 Peter 5 but "as you humble yourselves under the mighty hand of God, He'll exalt you." And he said if you don't do that, you're really operating in pride. But you said "casting all your care upon Him for He cares for you." And I share about this, but when we started, Barbara and I started our first Church with that group of believers. There were five families that helped us start at Kit Carson, Colorado in 1988. I had this mentality, I can do all things through Christ who strengthens me and I can do this. And you know what.
You did emphasize the through Christ.
It's still through Christ. But my mentality was I can do this.
Yeah.
When we came here and I shared a little bit about this, Sunday, we're coming up on our 21st anniversary. But, you know, I just told Barbara, listen Barbara, if Jesus doesn't show up, we are toast. It's over.
That's good.
Hang it up and go home. And you know, the scripture says this in John 15, I think it's 15:5, but Jesus said, "Without me you can do nothing." Now they they in a sense say the same thing. But I really believe that my position when I came here, right, and started this church, was much stronger than I was in Kit Carson when I had this mentality, I can do all things through Christ who strengthens me it's still Christ. But to where without me you can do nothing. Because there there was more of like, if Jesus doesn't show up, if the grace of God doesn't help me, I'm toast.
I like that. I like that because you're in a position where God is, the pressure isn't on me. This is you.
Right. And you know, I think there are things that God has for Charis Christian Center. I think there are things that God showed Barbara when we first came here and myself and things that have been spoken to us prophetically. But you know what, it's not up to me to make it happen. And I've had people that somewhat know these things and they'll say, aren't you? I'm like, no, it's not time. And if God brings it to pass, that's great. And if he doesn't bring it to pass, I'm happy. Praise God, because this isn't my deal. This is his, this is his ministry, this is his Church. And you know, that takes a pressure off me.
When we were in that facility on Elkton, your Church was right next door to it. I knew that I needed to contact my partners because we had to have $3.2 million to finish that thing out. But I just, I didn't feel like I had a word from God yet I knew that the need existed. And there was a tendency for my staff was telling me, "You got to do something, do something." And I just kept telling them, I said, "I'm not gonna do anything until God shows me what to do and what to say." And so I waited for like three months and I didn't do anything. And my staff was just constantly, "You got to do something." And finally the Lord just spoke to me real quickly how to do this. And in 14 months we raised that 3.2 million dollars. It was above my normal operating expense. But it's exactly what you're talking about Lawson, that yes, God uses us, we have to do something, but it is not us. It's God flowing through us.
Right.
There's a difference.
You know, I had a man, a very successful businessman that came to my church and you know, he was really amazing, but we bought that building on Elkton and I didn't have enough money even to finish out the building. And it was during the Obama years and banking money was tight. It was the very bottom of the economy. And while we were in that, your administrator came to me and asked me if we would tear out that mountain behind and build a parking lot because you really needed it for the Bible school and you actually, I said "Yeah, but I need so much money because I'll have to get a loan of so much." And you know, you graciously just gifted it to us, and now I've given it back and stuff, but you didn't ask me to give it back.
No, I am a great giver.
But anyway, I remember, I was over there at that property on a Saturday and I just said, "Lord," I said, "I need somebody to come help me move this mountain." I had people help me build the church in Kit Carson and do specific things. And I said, "Your word says, if we speak to the mountain it'll move." So I commanded that mountain to move and then I went to church Sunday and in the early service I said, "We command that mountain to move in the name of Jesus." And there was like a thousand semi loads of dirt that we had to move out of there. And I had this guy and he'd just been healed from cancer and he'd just come to the Church and he was up in his, you know, 70s and he came and John, was his first name, and he just said, Pastor, he met me on the step and he'd just come to church and he told his wife, "When my hair grows back from this cancer, I'll go to church with you." And he wasn't planning on going back. He liked it so much he kept coming, but he handed me his card and said, Pastor, I'll move that mountain for you.
Praise The Lord.
But one position he lived with was, if you don't know what to do and he's a very successful businessman, then don't do anything at all. And I really believe that's a strong position.
Well this goes back again to 1 Peter, 5:7, "Casting all of your care upon him." Because if you are carrying the care, if you're worried, staying up at night, it's because you haven't humbled yourself. You hadn't cast your care over.
Yeah.
You aren't operating in grace, you're working in law.
And it's not us, but Jesus. And that's a lot stronger position.
Absolutely.
You know, we just hired somebody here at the Church and we had for two years we've been trying to get somebody and it just, it wasn't right. None of things were right. And then, I was like, I went to a pastor's thing here locally that Dean Hawk does and it's with all the pastors in the community and you can come if you want. And I went over there and I sat down with a pastor from a reform church and a pastor from a Foursquare church, a little Foursquare church. And he actually told me his daughter's coming to my youth and she loves it and she's the group leader and the other guy wanted to know more about being spirit-filled. And he said, "I want to come to something that's really spirit-filled." And he could tell. Because I was praying in tongues, everything. And it was just us three at the table for a little bit. But I said, well, we were praying for each other. And I said, "Well just pray." I just had a challenge with staffing and I was driving home from that and the Lord said, "I want you to call Damon Peterson." And, so I said, okay. And I had an appointment the next morning with one person. He said, I'm gonna resign first of January. And so I called Damon the next afternoon, he said, "Well, come on over." And we talked about an hour and a half. And then he came the next morning. I was busy doing something and talked to my personal assistant for quite a while. But he said, I'm gonna come do this. And you know what? Damon is better than anybody we could have dreamed of.
Damon worked for me for many years.
Yeah.
And he fits here. I am so happy to have him. And it's just like a dream come true. But Barbara had also prayed, she said, "God, we just can't do this anymore. We need some help." And, you know, when God gets involved, it's just right. And it's good.
I just made a program today with our chief financial officer and I mean, this guy is a quality guy. He's the head over at Capin Crouse, which has, I don't know, thousands of non-profits that they support. And he came to work for me. And God just sends you these people. See, when you're operating in grace, the responsibilities are on God, it's not on you. I couldn't plan these things. I couldn't make them happen.
No. It's amazing what he does and how he helps us. He's helped us so much. It's amazing.
Oh man.
It's amazing.
I often say that if your life isn't supernatural, it's superficial.
Yeah.
And if you are taking all the responsibility on yourself, then you are going to have minimal results. When you turn it over to God, He'll do much better than you could ever do.
Amen. It's just amazing. So Andrew, I really appreciate you.
Well, I appreciate you.
I appreciate you so much coming and being on my broadcast and being in, you know, my life all these years, 44 years, it's just really amazing. And you know, you turned our whole family around and you turned my life around and you've been such a positive influence, in my life when we were in Kit Carson.
Well, you've been a super blessing to me too.
Yeah. We love you. We love the Bible School. Love what you're doing. Love the Word. You know, The Word of God will change your life. And it's the Word of grace that we preach. And you know the Bible says "The Word of grace will build us up and give us an inheritance."
Amen.
"Among those who are sanctified by faith." If you're here, if you're watching, if you need prayer for healing, for salvation, to receive the baptism of the Holy Spirit, for finances, for whatever it is, you know, we got a Bible full of promises that we can believe. And I encourage you to call our prayer ministers today and receive prayer and get them to agree with you so that you can receive all that God's provided in his grace. Blessings.
What is grace? What is the purpose of the law? And how do you appropriate God's grace in your life? Get answers to all these questions and more with the Grace package. You'll receive the "Abundance of Grace", the "Revelation of Grace", "Galatians", "The Grace of Christ", and "Entangled" CD series all for $39 when you call 719-418-4000 or visit charischristiancenter.com
Praise the Lord, friends, I want to invite you to Church this coming Sunday morning, whether you're in Colorado Springs or whether you're wherever you are at, if you're in Colorado Springs, you can see us Sunday morning at 8:30 or 10:30 AM live. But you can also watch us with our livestream congregation at 8:30 or 10:30 AM or you can go to our website and get it anytime at charischristiancenter.com.
Thanks for watching Grace for Today. This broadcast has been made possible by our faithful partners. If you would like to become a partner, need prayer, or have a question, please call us at 719-418-4000 or to partner online, go to CharisChristianCenter.com/Give You can write us at: P.O. Box 63733 Colorado Springs, Colorado 80962. See you next time on Grace For Today.