The Abundance Of Grace Part 8
The Abundance of Grace Part 8 with Pastors Lawson and Aaron Perdue. On the final episode of this series on Grace For Today, you'll learn how faithfulness and humility will move you into living daily in the power of God.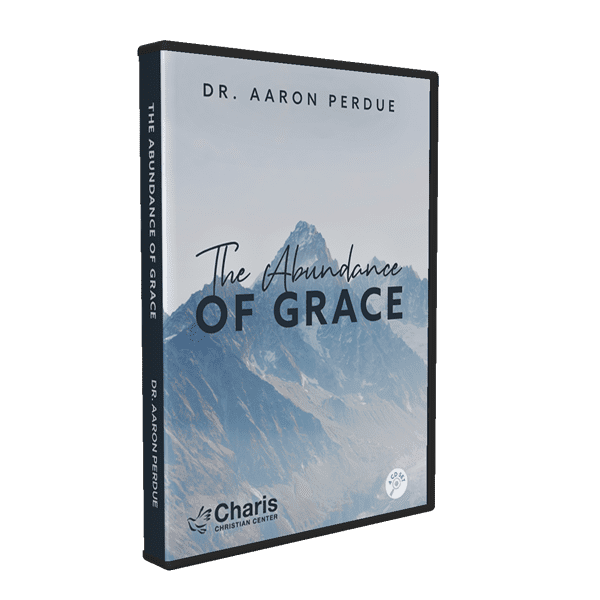 The Abundance of Grace
Jesus came to give you life and to give it more abundantly! In order to reign in life, you will need two things: the abundance of grace and the gift of righteousness. There is nothing you can do to earn God's righteousness. It is so immeasurable, so vast, so incredible that it can only be received as a gift.
The Abundance Of Grace Part 8 Transcript
Friends, I'm so glad that you're with us today. I have my son, Aaron, on the program with me, and we are sharing on the abundance of grace and on how grace empowers us. We're gonna be talking today, specifically about two areas I believe that will help you move into the power of God. Number one is faithfulness, and number two is humility. You don't wanna miss this teaching. So open your heart and receive God's good work today.
Welcome to the broadcast. I'm Aaron Perdue. I'm here with my dad, Pastor Lawson Perdue. We have a great teaching in store for you today. We are wrapping up my series on The Abundance of Grace. God wants you to reign in life. I like what the Bible says in Romans 5 verse, what verse is it?
17.
Verse 17.
Reign in life through the abundance of grace in the gift of righteousness. And thank God for that we have received an abundance of grace. Grace didn't just happen when you got saved.
Amen.
The grace of God really was on your life. I mean, I believe that the Bible actually says in 2 Timothy, and you're gonna be sharing a little bit for 2 Timothy, but God from the foundation of the world saved us and called us by his grace.
That's awesome.
So from the foundation of the world, grace began. And when we got saved, we entered into that grace. But then the Bible says that we're to grow in the grace and knowledge of Jesus Christ at 2 Peter 2:18. And it also says that he saved us and raised us up and made us sit together in heavenly places with Christ Jesus. It's Ephesians 2:5-6. So that in verse seven, he might show us the exceeding riches of his grace in the ages to come. So grace has been from the foundation of the world to the ages to come, praise God. And we got involved in the grace of God when we received Jesus as our Lord and Savior.
Yeah. And when you're born again, when you receive Jesus, God infuses your life with purpose. He infuses your life with destiny, with a plan, with a purpose, with power, with provision. And I believe that every believer has a purpose, a specific purpose. Their individual life has value, has meaning, has purpose, and you are here for a reason.
That is so important. There's a major dilemma among a lot of young people today, and people, there's suicide.
Everyone even older, like older men having midlife crises. Thinking they don't have any purpose in life.
In the pandemic, we saw, especially the men, we preach, we had our church. We were the last big church to close in Colorado Springs. We were the first big church to open. We didn't really have a big problem with COVID. Now there's people that got COVID, but they got over it as a whole. And we had a couple of people that died during the pandemic from COVID. And both of them had preexisting conditions. However, we preached three funerals. Not for people from our congregation, but they were friends of people from our congregation. One was a 21-year old young man, one was a 36-year old young man, and one was a 50-year old man. And it was really because they didn't understand their purpose. Men struggle with it more.
Men who took their own lives. Those three.
They took their own lives and none of them were in our church. They weren't part of our congregation, but they did not understand their God-given purpose. Mom actually knows of about 18 people, personal relationships with different people. 18 different men, all men who took their lives, suicide during the pandemic.
It's really important that we understand that we do have a calling, we do have a purpose, and God will give you grace, an empowering grace to do what he's called you to do. So let's go to 2 Timothy 2. I love this letter to Timothy. It's one of the pastoral epistles. So Paul's writing to Timothy as a younger man in the faith, trying to encourage him to do everything that God has called him to do. And Paul knows that it takes grace to do what God has called you to do. If you're gonna accomplish big things for the kingdom, it's gonna take a big powerful dose of grace.
[Pastor Lawson] Amen. It's gonna take more grace.
Amen. And we're gonna kinda talk about some practical things about how to tap into that empowering side of grace for your calling. And just some very practical things where some people, a lot of people really have shortcomings in those areas. And so we're gonna talk about just how to let that grace flow in your life and to empower you to do what God's called you to do. So 2 Timothy 2:1, "You therefore, my son, be strong in the grace that is in Christ Jesus." There is grace in Christ Jesus. And we are to be strong in it. I like what he says here in verse two. "And the things that you have heard from me among many witnesses, commit these to faithful men who will be able to teach others also." I love that. Sometimes, as leaders in the body of Christ, we want people to find people who are very high ability, high capability to do things, but knows that God says, to find faithful people who will then be able. God gives ability to the faithful. Sometimes we look for able people who are kinda flaky and we pray that God will make them faithful. It doesn't work that way.
We need to look for faithful people.
Yeah. And a lot of people that we've developed and raised up here in the church were faithful, and then God gave them ability. In one of the shows you mentioned, Carrie Picket, who's now a very high level position for Andrew Wommack Ministry. She's the director of his bible college. She grew up in Kit Carson. She was actually my babysitter when I was a kid. She served at your church. She went to Andrew Wommack's Bible College when I was much smaller at the time, and she went out to serve Andrew and to plant a school in Russia. And she was really doing it on her own. I don't think she had a lot of support at that time.
She went there to help someone and in about November he quit and they were up in the north Murmansk or something, Russia. And she emailed me and asked me what to do. And I said, you made a commitment to those students. You stay there through the school year.
And how long she stayed?
She stayed there for nearly 20 years, 19 years or something. She served in Russia and then moved down to right there. It used to be Leningrad, Russia, but it was changed.
Saint Petersburg.
Saint Petersburg it changed. I went there actually with Dr. Lester Sumrall in 1991. And we went there the week after the coup. They didn't know whether to call it Leningrad or Saint Petersburg. Man, we had a great gospel crusade. And we had a big stadium held thousands and thousands of people. And we had Rod Parsley preaching, Lester Sumrall preaching, Billy Joe Daugherty preaching, all these different people preaching signs, wonders, and miracles.
Well, you look at people who have great ability.
Many people were saved and filled Holy Spirit.
They often had years of faithfulness.
Yes.
Like thinking about Lester Sumrall. I know he had decades of faithfulness.
Yeah. He was about 65 years old before his ministry really exploded. And when he was 50, he came back to the United States of America. And he'd pastored, he'd traveled, he'd evangelized, he'd done different things. And then he went to Manila, Philippines. They had a great, he cast the devil out of a girl in Bilibid Prison is really a miracle. He had been there for several months and he didn't have hardly any people. And yet he had partners in the United States that were sending him money. So he said, if there was anybody besides my wife and my three sons at church, I took up at offer. Well, that was Lester Sumrall. But he heard on the radio about a girl in the prison who was beaten by devils. And then God said, I want you to do something about that. God said, he told God, send somebody else. And God said, no, I want you to go. And so he prayed and then he asked, "Hey, can I go pray for her?" People don't realize this girl, that a doctor came to see her and the doctor died. Another person tried to help her, and he died. So Lester Sumrall went and he cast the devil out of her. And he had amazing anointing in the area of deliverance. And he went one time and then he went again. And the second time, she was totally delivered, totally freed, saved, sound mind. And they actually released her from prison after that. But the mayor of the city, this had captured the whole country of Philippines, The mayor of the city of Manila called him and said, "Hey, what could I do for you?" And he said, "Listen, I want you to give me the city square." That was the main area in the city, and I want you to give it to me for 30 days. I want it every night. And so Lester said, "Even though we didn't have people, God had given them a piece of land." And he actually got a B1 bomber hangar and built a church with hardly anybody coming to church. Hallelujah. And he built this B1 bomber hangar for a church. And then this girl got delivered. He was listening to the radio and God told them, you go pray for this girl. He cast the devil out of her, and she got set free. And so the mayor of the city gave him the key to the city and gave him the city square for 30 days. And he invited these different evangelists, healing evangelists. It was in the Voice of Healing era to come and preach there in Manila. And when he did, he said, Oral Roberts had been sending him films of healing services, these miracle crusades, those tent crusades that Oral Roberts used to held. And he said, Gordon Lindsay had had been sending him boxes of these Voice of Healing magazines. He said, my whole office was full of these real films and these healing magazines. He said, I couldn't even get in there 'cause my office was crammed with his stuff. He still didn't have anybody coming much to his church. But he got that. And for 30 days, they held services in the city square of Manila, the capital city of Manila. God, it showed him that most foreign countries, third world countries, one city was the key to getting that whole nation to Christ. They had over in 30 days, they would show these films. They would start in the evening, maybe five o'clock in the evening before the service began at seven. And they would show these films of all these healings and miracles. And then they would hand out these gospel magazines about all these different healings. And then he would have a great evangelist preach from somewhere in the world. They had over 150,000 people saved in 30 days. And that B1 bomber hangar at the end of it, he seated 10,000 people. It was full of people. And they have a church today there. In fact, we have a man in our church that was born again in that church in the Philippines and then moved here to America after a few years and became a pastor in California. Now he serves in our church. He's up in his sixties, a great man of God, a great servant of the body of Christ. And it's amazing how these things go from generation to generation. Praise God. Hallelujah.
That's awesome. So yeah, to really tap into that grace it takes faithfulness.
Amen.
A lot of people don't pass the faithfulness test. They just think, Man, I'm just gonna get all the ability I can get. And then if God looks for faithful people.
Lester Sumrall, I was faithful for generations. I was gonna bring this up and I got telling this story. But after he started that God told him to come back to America and start a church. And when he came back to America, the leaders of his denomination rejected him. And they said, Lester, you are 50 and you are finished. And he said, I got on my knees and cried out to the Lord. And the Lord said, you haven't even begun. And it wasn't until he was about a 60 that his ministry really exploded. And it exploded by amazing proportions. And there had been a major fall in the full gospel realm. And people just started coming to him because of his faithfulness.
Yeah. I just see a lot of times if people just stick around and keep being faithful, God brings promotion, like you said about Carrie Picket. She's prone 'cause other people just flaked out.
Yeah. Andrew Wommack, you know what? I'm the pastor of Charis Christian Center. I actually believe that God called two men to start this church before he called me. But you know what? They didn't do it. So I was the third choice, but now I'm the first choice. Praise God. And sometimes God passes up some very able people because.
He's looking for faithfulness.
Faithfulness. We just stayed at it.
Faithfulness. And then who'll be able to teach others also. Let's go on here. So verse three, "You therefore must endure hardship as a good soldier of Jesus Christ." Faithfulness causes you to just keep sticking it out. "No one engaged in warfare entangles himself with the affairs of this life, that he may please him who enlisted him as a soldier. Also, if anyone competes in athletics, he has not crowned unless he competes according to the rules. The hardworking farmer must be first to partake of the crops. Consider what I say, and may the Lord give you understanding in all things." I love that he talks about soldiers, about athletes, and about farmers. These are all hardworking, committed, consistent, faithful type people. If you're gonna succeed in any of those fields, whether it be as a soldier, as a athlete, as a farmer, it takes.
If you enlist in the air force, in the navy, in the marines, in the army, you are not your own. You are the property. You know what? You're actually the property of God as a believer. But they got some assignments for your body. And if you don't do it, you'll be in big trouble. And so, you know what? A soldier who goes to war he lived to please the one who called him.
Amen.
And we lived to please the one who called us.
Amen. So I love that. So you had really to just have that grace, that empowering grace flow in your life for your divine calling. It takes faithfulness. When you're faithful, that allows that grace to flow and empower you.
And an athlete. You know an athlete that, we've had Olympic athletes come to our church and they train for years and years. They're so disciplined. They're disciplined in their sleep and their eating and their workouts. I even work out a lot. I work out seven days a week. I work out less on Sunday, but I work out on a regular basis and it helps me deal with the challenges of ministry, so on and so forth. But then he says a farmer. Now listen, I've been a farmer. I know it takes hard work. The average farmer only makes money once every three years.
So if you quit after one year, you might be in the hall.
There's a lot of people. I had a friend in Chicago, he didn't know nothing about farming. He said, all these farmers, they drive new trucks and they complain about not making any money. I said, that's 'cause all the others went broke and they bought up their farms. And basically people that make it in agriculture are very good managers if they make it in the long term. And they learn how to manage. And so he says they first must be a partaker of the fruits. And all these people, they have to be diligent, they have to be faithful. But of a steward, the Bible says it's required that a man be found faithful. Even Andrew Wommack, my mentor, did you know what? He was in the ministry for many, many years before his ministry really grew. And people say, Oh, he's an overnight success. No, it took years for him to develop that.
Faithfulness.
And then God.
That allows grace to empower what he's called to do because he's been faithful.
Amen. We wanna be faithful to the Lord Jesus.
Awesome. Well, thanks so much for joining us. We're gonna take a quick break. We'll be right back after this break. So stay tuned. We're gonna talk a little bit more about how grace empowers you to do what God has called you to do.
Amen. Friends, I wanna tell you about our grace package. I received a Revelation of Grace in Andrew Wommack's ministry in 1994 after I've been pastoring for six years. It revolutionized my life and it's helped me in so many different ways. I actually have been called to preach and filled with the Holy Spirit in Andrew's ministry 16 years prior to that. But when I received a Revelation of Grace, it changed me. We've also included a great teaching from my son, Aaron Perdue, on The Abundance of Grace, a single CD on Entangled, a great message on grace from Aaron, and my series on Galatians:The Grace of Christ. You don't wanna miss this teaching. Just like it's revolutionized my life, it will revolutionize yours. You can share this with your friends. If you don't wanna call in and get this, you can actually listen to these free on our website at charischristiancenter.com. We wanna get the word to you blessings.
Welcome back to the broadcast. We're gonna be closing out our series on The Abundance of Grace. God wants you to reign in life, and you do that through the abundance of grace. When God sheds his grace in your life, in your heart, he always wants to do it abundantly.
Amen.
And to really allow that grace, that abundant grace to flow in your life, to empower you to do what God has called you to do, you need to be faithful, but also you need to be humble. I kinda wanna talk about humility and just how that allows God's grace to flow in your life. So go ahead and turn to 1 Peter 5. I'm gonna turn there myself, 1 Peter 5. We'll start in verse five. It says, "Likewise, you younger people, submit yourself to your elders." A lot of people don't like hearing that word submit.
Oh, I'll tell you what. I preached on this when I was younger and people go out and say, that was a good message and then they'd go complain to everybody in town.
They weren't quite respecting the elders there. "Yes, all of you be submissive to one another, and be clothed with humility. God resists the proud, but gives grace to the humble." So you can actually resist God's grace that he wants to flow in your life through pride. So he gives grace to the humble. A humble spirit is a teachable spirit. And we talked about how grace teaches us if you're too prideful to really receive.
Oh, there's some people, I'm telling you. You see really what's in him when you give him a word of correction and you give him any correction and they just fall apart like a $2 suitcase. I mean, just, I'm telling you, you're not gonna go far till you get that corrected. I went once to Andrew Wommack and he is my spiritual father. He's the one who where I received the baptism of the Holy Spirit, where I received understanding about who we are in Christ. I really was called into the ministry under his ministry in 1978 when I was only 14 years old. That's 44 years ago. And Andrew's ministry has really transformed my life. But I went to him one time 20 years ago and I said, "Andrew, if you ever have anything to tell me, I want you to know that I am here to listen. You can tell me anything you wanna tell me." He said, "Well, I already know that Lawson." And I said, "No, Andrew, how do you know that? I've never told you that." He said, "It's the attitude in which you conduct yourself." And I'm telling you, some people need to work on this thing called humility. And if you don't get it right, it'll hurt you.
Yeah. It'll hinder God's grace from flowing.
It'll hinder you from moving forward.
Faithfulness and humility. And the devil wants to stop you from doing what God has called you to do. He wants to stop that abundant grace from empowering you to live out your God given calling. So it says in verse six, "Therefore, humble yourselves under the mighty hand of God, that he may exalt you in due time, casting all your care upon him, for he cares for you. I love verse eight. Now, this is in context here. I wanna talk about this in context. A lot of people separate this on its own. But verse eight, it's really talking about humility and not getting wrapped up in prides. It says, "Be sober, be vigilant because your adversary the devil walks about like a roaring lion seeking whom he may devour." The number one way the devil devours believers, his number one tactic is to get people sucked into pride. That's really how he devours people. He wants to stop that empowering grace from doing what God has called you to do. And when people step into pride, they don't receive correction. They don't really humble themselves ever. They think they know everything. They're not teachable. A younger person, just a little bit younger than me, told me that they're leaving the church because they can't learn anything here. They already know it all.
They're so funny. And they're early twenties.
And they don't really know anything.
It's so funny because like recently, I was teaching on the gospel of John and I've learned something every week. I've never taught on the gospel of John in over 30 years of full-time ministry, the whole book and I learned something every week, some major revelation. And Aaron, you teach and I come listen to you teach and I learn something new. And listen, I've listened to thousands of hours of other people's teaching, great teachers in the body of Christ, I learned something new almost every time I hear you teach. It's amazing to me how the Holy Spirit uses that. And if you have a teachable spirit, you can learn from almost anybody anywhere. I think that is a very arrogant thing to say.
Yeah, pride. It says be sober. Pride will actually cause you to behave like a drunk person. You just don't think clearly. You make stupid decisions.
Be sober means to have a mind that's washed in the word and instructed. Be watchful. Vigilant means watchful.
And really the enemy doesn't have any new tricks up his sleeve.
No. The devil's only power over believer is deception, but they're deceived when they act like that.
Yeah. So be sober, be vigilant. Resist him steadfast in the faith knowing that, resist pride like you resist the devil 'cause it comes from the same place. We we're talking about how like contentions come from pride. What's that Bible verse says?
It's in proverbs. It says, only by pride comes contention. So if you're contentious, you're in pride. Somewhere you got pride. So you gotta get over your bad self.
Amen.
Amen.
So resist him steadfast in the faith. This is verse nine, "knowing that the same sufferings are experienced by your brotherhood in the world. But may the God of all grace who called us to his eternal glory by Christ Jesus after you have suffered a while, perfect, establish, strengthen, and settle you to him be the glory and the dominion forever and ever. Amen."
The Bible actually says, all who live godly in Christ Jesus will suffer persecution. That's in 2 Timothy 3. I believe it's in about verse 10. But a lot of times people think that God is the author of suffering. God is not your problem. He is your answer. But if you live godly in Christ Jesus, there's gonna be some people who come against you. But you will win, praise God if you stay in faith. So keep believing Jesus and realize God is not your problem. He is your answer.
That's awesome. I was talking to my wife about this before, just how some people are very gifted maybe in the body of Christ to have great giftings, but sometimes they might just be really mean or just act not right. And I asked her, why is it that people have these great gifts, but they act arrogant, act prideful. And she said, "Well, you can't." I wish I could just cast out that stubbornness or cast out that meanness in them. And she said, "Well, you can't cast out the flesh." People have to crucify.
That's their flesh. And some people think that God has a mean streak in him. But if you look at the life of Jesus, the only people that Jesus really was firm with was religious people. And that were caught up in pride and in religion and in self promotion, so on and so forth. And Jesus, he told the Pharisees, they're like whitewashed tombs. They were pretty on the outside, but full of dead man's boat, bunch of snakes and vipers. He took a whip and drove the money changers out of the temple. It was religion. But when you see how Jesus dealt with sinners, Jesus was very gracious. He was very compassionate. And so I believe that we need to be the same way. We need to be gracious and compassionate. And some of these people even say they have a revelation of grace, but I don't think they actually have a revelation of grace. I think they taught grace because it's popular. And we don't teach grace because it's popular. We teach grace because it's the gospel.
Amen.
Amen. You know what? We've been teaching on this series, The Abundance of Grace and we've got it available as a package. But I recommend, I love this teaching there and I ask him to teach this on television with me because I enjoyed it so much. It was a great teaching. And so we've got it. We've got the Grace of Christ. We also have Andrew Wommack who's teaching with me the Revelation of Grace. And we've got that on CD. We've got it on a USB in video and audio and all these different ways you can get the gospel. And tell your friends to tune in next week, we'll be sharing this teaching with myself and Andrew Wommack on the Revelation of Grace. It'll be a great time together. Thanks so much for being part of the broadcast. God bless you. We love you. Amen. May the grace and peace of Jesus be with you.
[Narrator] What is grace? What is the purpose of the law? And how do you appropriate God's grace in your life? Get answers to all these questions and more with the grace package. You'll receive the Abundance of Grace, the Revelation of Grace, Galatians: The Grace of Christ, and Entangled CD series, all for $39 when you call 719-418-4000 or visit charischristiancenter.com.
Hi ladies, I am so excited to invite you to our Rejoice Women's Conference, February 9th through the 11th. This is an event for women, 13 and up. It's time to rejoice.
Not only are you gonna have a lot of fun and laugh a lot, you are also gonna experience the power of God when you see signs, wonders and miracles.
[Barbara] Amen. We're gonna have a lot of fun. We have Cathy Duplantis coming. So make plans and register today.
[Narrator] Thanks for watching Grace For Today. This broadcast has been made possible by our faithful partners. If you would like to become a partner, need prayer or have a question, please call us at 719-418-4000 or to partner online, go to charischristiancenter.com/give. You could write us at PO Box 63733, Colorado Springs, Colorado, 80962. See you next time on Grace For today.