Financial prosperity is one of the most contended topics by Christians today. Historically, there are two major perspectives. The first supports supernatural prosperity. They believe that God, out of His infinite goodness, wants people to be wealthy and rich in this life. The second opposes the idea of supernatural prosperity. They believe that disciples of Jesus Christ have an eternal mindset and instead of acquiring wealth, should give their money. In this Bible teaching article, let's take a prayerful and object look at the scriptures. We will find an answer to the question, "What does the Bible say about prosperity?"
This article assumes the reader knows the Bible is the infallible, incorruptible, and inspired word of God, recorded by men. We're going to make the Bible the final word for what is right, wrong, and what action should be taken. So which perspective of prosperity does the Bible support? There are scriptures used by both sides of the argument.
Bible Verses Supporting Financial Prosperity
Let's look a couple of scriptures to see if God wants people to be wealthy and rich in this life. For example, Psalm 112:3, "Wealth and riches shall be in his house: and his righteousness endureth for ever." This scripture is referring to "the man that feareth the Lord". Another Bible verse is Proverbs 10:22 that says, "The blessing of the Lord makes one rich, and He adds no sorrow with it.". In their context, both Bible verses refer to being rich in the financial sense. (Not to say they can't also be applied to other spiritual principles). Both verses are clear that being "rich" and even having "things" is considered positive. Being wealthy a blessing that comes from a good God. These are just two examples of similar Bible verses. There are many other Bible verses that express God as a good God. He has a heart to provide for His people, make them wealthy, and to have good things on the earth. However, are there also scriptures that say we should not be rich or store up things on the earth?
Bible Verses Warning About Financial Prosperity
Let's take a look at a couple of scriptures that warn against being wealthy or having things in this life. Matthew 19:21 reads, "Jesus answered, "If you want to be perfect, go, sell your possessions, and give to the poor, and you will have treasure in heaven. Then come, follow me." This verse is recording the very words of Jesus as He speaks to a rich young ruler. We also learn that this young ruler went away sad and chose not to surrender his wealth to follow Jesus. Another verse is James 5:1-3, "Go to now, ye rich men, weep and howl for your miseries that shall come upon you. Your riches are corrupted, and your garments are motheaten. Your gold and silver is cankered; and the rust of them shall be a witness against you, and shall eat your flesh as it were fire. Ye have heaped treasure together for the last days." Again, these are just two examples of Bible verses that show God telling people to give away their riches. One even gives a severe warning against storing up wealth. So where does that leave us?
What Should Christians Do?
We've proven that there are Bible verses that say we should and should not be rich. If we dig in to one side of this argument, we'd have to ignore other God-inspired scriptures. Does this mean that God's Word contradicts itself? Certainly not! (Although, that is a tactic the devil uses to create division and cause people to devalue God's Word). So what's the truth? We need to accept ALL of God's Word and recognize that both sides of this argument can be true. There are no short-cuts to having a personal relationship with Jesus Christ and allowing Him to speak into every situation.

If both sides are true, how should a Christian act? Is financial prosperity from God? Yes, God wants you to be rich. When you become rich, you need to protect your heart and be ready at all times. At any moment, be ready to surrender that wealth to the purpose of the one who truly owns all things. We need to recognize that God is generous, loving, and extravagant. He is good to and withholds nothing good from us as we steward what He made. At the same time, remember that we are just that: stewards. Let's never put our trust, confidence, or love in money. We should also never feel like we can't do what God said for not having enough money. In conclusion, let's look at a few more example scriptures:
Bible Verses that Balance Prosperity
Matthew 6:33, "But seek ye first the kingdom of God, and His righteousness; and all these things shall be added unto you." When you keep your focus on relationship with Jesus you can know that God is going to be good to you and cause you to experience financial prosperity!
Matthew 19:21, "No man can serve two masters: for either he will hate the one, and love the other; or else he will hold to the one, and despise the other. Ye cannot serve God and mammon." God will entrust us with finances and wealth. It's our responsibility to keep God as our master and not allow money to become our master.
---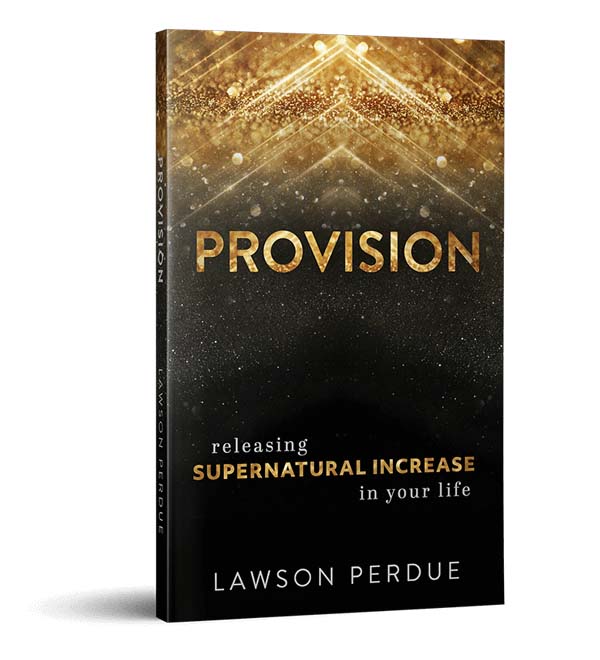 Provision Book
by Pastor Lawson Perdue
God is a good Father. He always provides for His children. In the book, Provision, discover practical truths from God's Word about how God provides for us and our role in stewarding what He has given.
This book will help you where the rubber meets the road. God wants to release His supernatural increase in your life so you can accomplish everything He made you for. God can make you rich, without having fear of falling from His grace.