Rejoice Women's Conference 2023
February 9, 6:00 pm

-

February 11, 6:00 pm

Free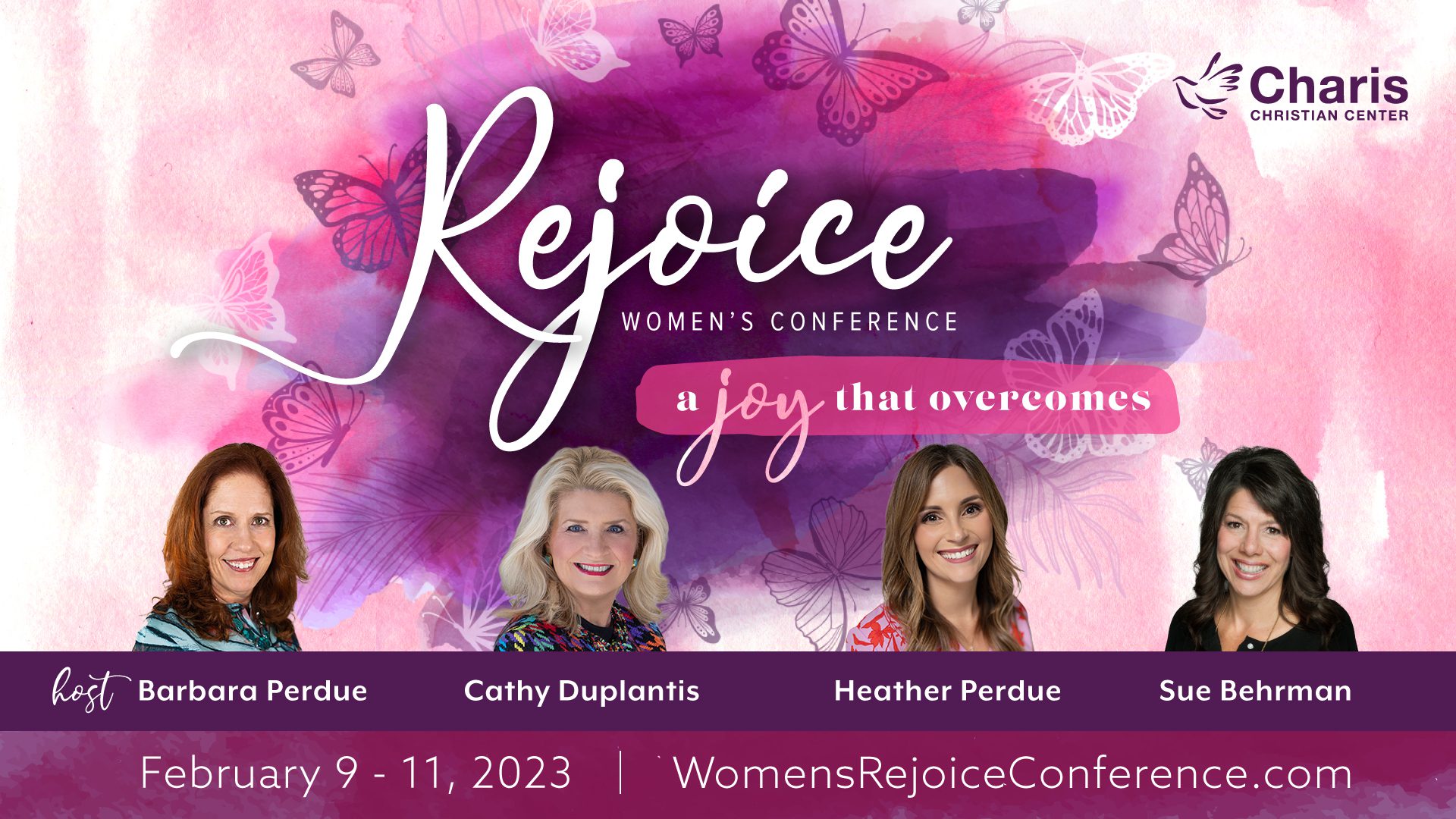 Rejoice Women's Conference 2023
Live in an abundance of joy!
The Rejoice Women's Conference is a free event where you will be joined by women from around the world to be encouraged and emboldened by powerful christian speakers including: Pastor Cathy Duplantis (JDM), Host Pastor Barbara Perdue, Heather Perdue, and missionary leader Sue Behrman.

1 Thessalonians 5:16-18, "Rejoice always, pray without ceasing, in everything give thanks; for this is the will of God in Christ Jesus for you."
Romans 15:13, "Now may the God of hope fill you with all joy and peace in believing, that you may abound in hope by the power of the Holy Spirit."
Encounter God's Love at Rejoice Women's Conference
When Pastor Barbara Perdue was just a 13 year old girl, she encountered the unconditional love of God at an event similar to Rejoice. This encounter sent her life spiraling in the right direction. God wants to do the same for you, and all of His daughters.
At Rejoice, you will have a personal encounter with the Lord. We allow time to minister in the gifts of the Holy Spirit and as a result we see amazing testimonies, including: physical and emotional healings, revelations about our identity in Jesus Christ, overcoming fear and stress, and encounters of the unconditional love of God.
At last year's 2022 event, we received these and many more testimonies:
Faith (Age 12) – testified that she gave her life to Jesus and that she received the Baptism of the Holy Spirit, "When I was 3 years old my dad died. I'm now 12 years old and God is my Father and I want to be a worshiper, showing God's love to people and showing people that God is their Father".
Hope (Age 7) – testified that she received the Baptism of the Holy Spirit and, "My anxiety is gone".
Gayle – testified about how she was able to connect with her granddaughter, "On the way home Thursday night my 16 year old granddaughter asked, "How did you like the meeting?" I said it was wonderful. She said, "Right! It was awesome. I love Pastor Barb's teaching".
Michelle – testified about how she received physical healing, "Friday night I was healed with the pain in my neck and back. No More Pain! I received His healing!".
Danielle – testified, "I received a couple of specific words from God that have given me more freedom plus it confirmed a calling he has on. My life".
Build Powerful Relationships
Bring a friend or come and make new ones as you enjoy God's Word and delicious meals. This is also a great opportunity for some quality mother-daughter or grandmother-granddaughter time! We'll have a special time of ministry just for girls and young ladies, plus a line-up of speakers that will appeal to every generation.
Do you have small children? This is a great time to let your husband or grandpa be the fun one. Plan an activity for the rest of your family. Some of favorites are: all of the kids having a pizza party at a friend's house, a fishing trip, and living room football (you might hide that vase… and the lamp…). Childcare will not be provided, this event is for ladies who can sit through a service. A nursing mothers room will be available.
Learn more about Charis Christian Center at: CharisChristianCenter.com
Meals & Special Activities
Your on-site ticket registration includes free meals that occur during the event! Meals include breakfast on February 10th and 11th, and lunch on February 10th. At this event we will be unable to accommodate special dietary needs.
At Rejoice Women's Conference 2023 we'll do special giveaways at each session. You will also find a Rejoice Women's photo booth where you can create memories with your friends and family.

Rejoice Women's Conference 2023 Schedule
Thursday, February 9
6:00 PM | Doors Open
7:00 PM | Session 1 – Pastor Barbara Perdue
Friday, February 10
7:30 AM | Doors Open
8:00 AM | Complimentary Breakfast
9:00 AM | Session 2 – Heather Perdue
10:30 AM | Session 3 – Sue Behrman
12:00 PM | Complimentary Lunch
6:00 PM | Doors Open
7:00 PM | Session 4 – Pastor Cathy Duplantis
Saturday, February 11
7:30 AM | Doors Open
8:00 AM | Complimentary Breakfast
9:00 AM | Session 5 – Pastor Cathy Duplantis
10:30 AM | Session 6 – Pastor Barbara Perdue
Accommodations
This year we have secured a special room rate from the nearby Drury Inn Hotel. You can reserve your room at: https://www.druryhotels.com/bookandstay/newreservation/?corpid=329447
Or, call 1-800-DRURYINN (1-800-378-7946) and provide our "company name": CHARIS CHRISTIAN CNTR
Related Events