Christmas Eve at Charis
December 24, 2021, 3:00 pm

-

7:00 pm

Free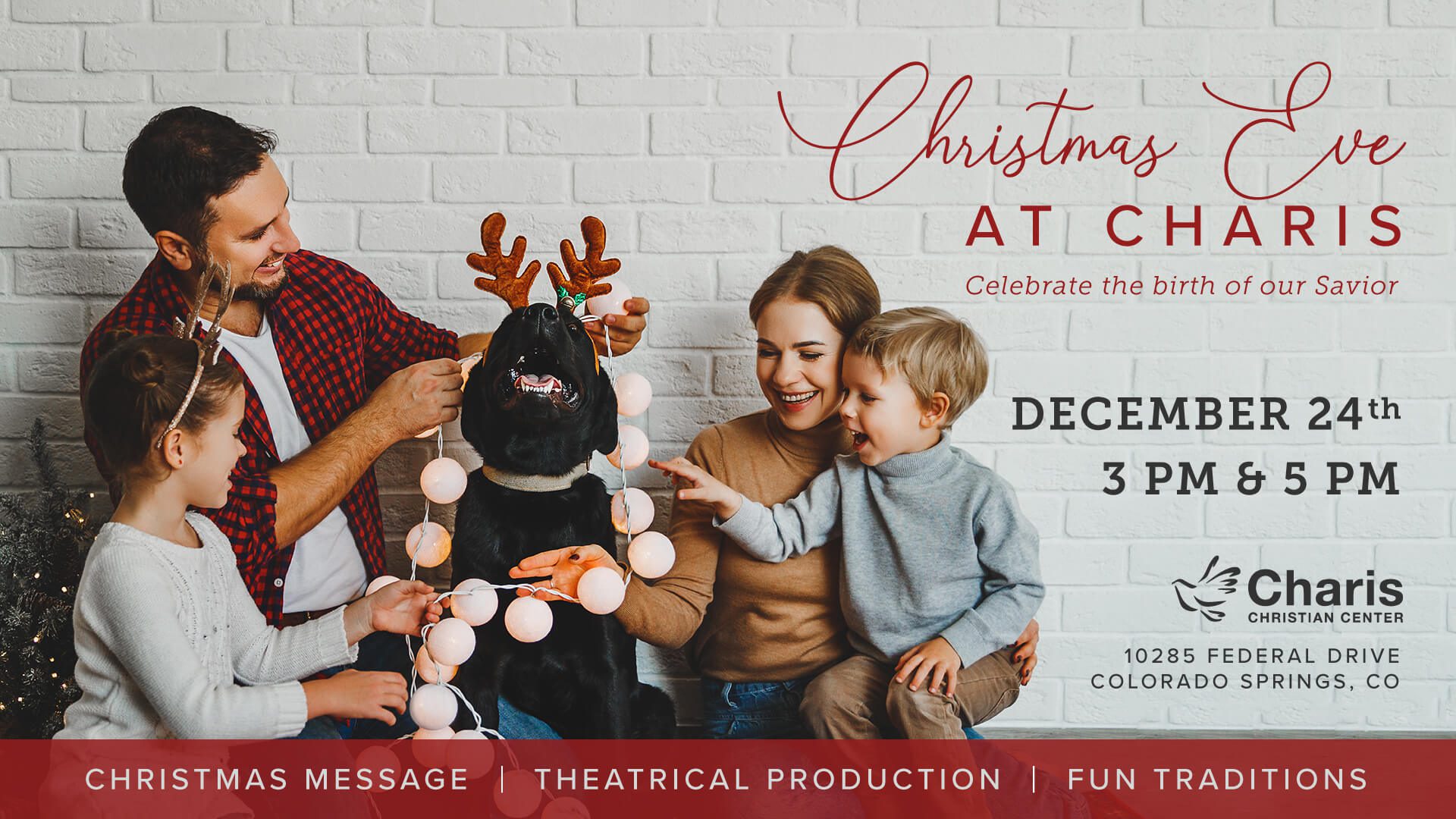 Celebrate the birth of our Savior with a new Family Christmas Tradition!
Christmas Eve at Charis 2021
Celebrate the birth of our savior with a new family Christmas tradition! Christmas Eve at Charis is a free family-friendly event featuring a theatrical production, Christmas message, and fun traditions. Charis Christian Center will host two Christmas Eve services on December 24, 2021; at 3:00pm and 5:00pm.
A Family Christmas Tradition
Host Pastors Lawson and Barbara Perdue, want to share their family Christmas traditions with you. Come expecting a warm cup of peppermint hot chocolate, plenty of places to take a family photo, and a Christmas Carol around the piano with Pastor Lawson. This event is for everyone, including ages, walks of life, and religious backgrounds, so be sure to bring your whole family! If you don't have a family, we hope you will come and be a part of ours (even if you're covered in green fur or tend to say, "humbug").
Christmas Eve Production
This year's Christmas Eve at Charis will feature an all-new production that has been in planning since last year's event! The Voices shares a unique perspective of how God used the voices of men and women from hundreds, and even thousands, of years earlier to bring about the virgin birth of Jesus. This production includes some professional level acting with appearances from our Youth and Children. Expect entertainment that is appropriate for all ages and includes music, drama, and ballet. You will laugh, tap your foot, and be inspired by the goodness and grace of God.
Christmas Eve at Charis has been made available to you for free through the generosity of the partners of Charis Christian Center. Don't let anything hinder you from celebrating the birth of our Savior and experiencing precious family moments this Christmas Eve.
*Registration for this event is not required, but it does help us plan and we'll send you a reminder email close to Christmas Eve. Register for free at: ChristmasEveAtCharis.com.
Location:
Charis Christian Center
10285 Federal Drive
Colorado Springs, CO 80908
Christmas Eve at Charis Schedule:
December 24, 2021
3:00 pm service
5:00 pm service
Related Events